Momentum for seed assessments grows as experts emerge from Leadership Course in Zimbabwe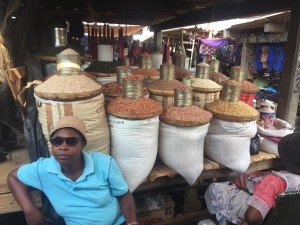 A seed/grain trader in the Mbare market in Harare,
Zimbabwe, Sept 2017.
In a first for the seed security field, 16 experts engaged in an intensive Leadership Course designed to build a foundation in Seed System Security Assessment (SSSA) methods. For two weeks in September 2017, experts representing 11 African countries and eight organizations (NGOs, UN agencies, research partnerships, and others) gathered in Zimbabwe to gain field experience using refined assessment tools and developing evidence-based action plans. The course was funded by the USAID/Office of U.S. Foreign Disaster Assistance, which has supported similar work for over a decade.
With increased global scrutiny focused on ill-tailored or dependency-generating seed responses, SSSAs are rapidly becoming the tool of choice to prevent misdiagnosis of seed insecurity. Seed security is now widely seen as distinct from food security and there is growing worldwide interest in the nascent field of SSSAs. The Zimbabwe course comes as assessments have recently been integrated into USAID guidelines and standards for best practice, and organizations like Catholic Relief Services (CRS) and the UN-Food and Agriculture Organization (FAO) are routinely commissioning such field assessments.
Led by Dr. Louise Sperling of CRS and the CRS-Zimbabwe country office, the Leadership Course is viewed as a first step to sustainably build field-level capacity in seed security concepts and methods. Trainees engaged in classroom sessions in Harare, complemented by field visits to Murehwa and Mudzi districts. Using quantitative and qualitative tools, the team surveyed individual farmers, agro-dealers, bulk seed/grain traders, small market traders, experts from government and research institutions, value chain players, and other stakeholders. Rapid mock action plans were developed after assessment completion.
As many trainees arrived from nations that have promoted annual seed distributions for 20-40 consecutive seasons, they are expected to serve as fresh voices in the debate on evidence-based seed responses. An assessment in Burkina Faso is planned for October 2017, while others will follow.
A second Leadership Course is planned for mid-2018.
To learn more about the tools and templates used, visit https://seedsystem.org/assessment-tools/seed-system-security-assessment/
SeedSystem community: what other methods and channels could be used to build field capacity in seed assessments?