Vegetable seed is different
In a new guest blogging series, Peter Marks of Seed Programs International discusses his organization's experience working through partnership to support small-scale vegetable seed projects in emergency response, development, and education. This week's blog focuses on how vegetable seed sourcing is different from staple crop sourcing, and the implications for practice.
See Peter's wider reflections on 20 years of programming here.
Seed System Security Assessment (SSSA) data show that farmers rely on the informal sector for seed of most staple crops. Sources mainly include farmers' own saved seed, neighbors, and informal weekly and daily markets. Across 15 emergency response locations and 5,100+ farmer household interviews, only 2.4% of all seed (with the data dominated by maize) was sourced from agro-dealers.
The story SSSA data tell about vegetable seed is a little different. For tomato seed, 13% by weight across these same sites came from agro-dealers; for leafy greens, 25%; for watermelon, 76%.
Local markets were the single most important source for seed overall (51% of all seed sourced), but for many vegetables, these local markets are the second or third most likely source.
Home seed saving is more labor-intensive for certain vegetables and as a result, it is rare in the data for crops such as leafy greens, cucurbits, and onions.
This divergence in seed access data for vegetables tells us a lot about how to respond in practice. When responding to a crisis, consider these points for vegetable seed in particular:
Transport to hub locations where agro-dealers are housed may be an especially likely barrier.
People more likely need cash to access vegetable seed than they do for other types of seed. Responses that provide cash, or vouchers to partially replace cash, can help during vegetable planting season.
Supply chains are narrow in some regions and much of vegetable seed worldwide is imported. Vegetable seed may be "stuck" in a capital city when crisis disrupts transportation, or an entire country may lack a recently-imported supply. Direct distribution of imported vegetable seed may be a valid response when it is not for some other crops. Just make sure the varieties are appropriate and accepted!
As a packaged item, it is hard to visually assess vegetable seed quality, and quality can decline quickly with excess heat and humidity. Be aware that some "potential vegetable seed" may not be viable.
Our organization, SPI, has found wide regional variation in availability of vegetable seed. For example, in Liberia we see limited inroads by the global vegetable seed industry, minimal local vegetable seed production, and poor penetration of agro-dealers into rural areas. Where vegetable seed is sold, it is expensive and farmer choice is minimal, such as one variety option per species.
In Kenya, however, we find more than one locally-owned company specializing in providing a range of quality vegetable seed, in affordable small packets. Locally-tailored vegetable breeding programs are robust. Most people live near an agro-dealer that may carry vegetable seed.
What's your experience in connecting farmers to vegetable seed during emergency response?
Were you able to source vegetable seed local to the crisis?
How else did you help farmers access seed when cash or transport were limiting factors?
I hope you'll share your stories and questions. If you have any trouble entering your comment in the form below, just send it to me at peter@seedprograms.org, and I'll ensure that your comment is posted with your name attached.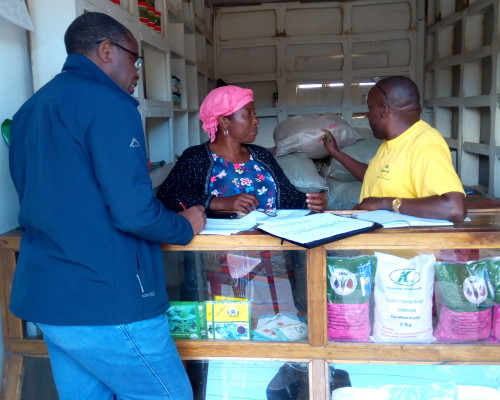 Vegetable seed available at an agro-dealer shop in Mbeya, Tanzania, April 2018 (Credit: SSSA Leadership Course participants).