Webinars, Research & Policy Resources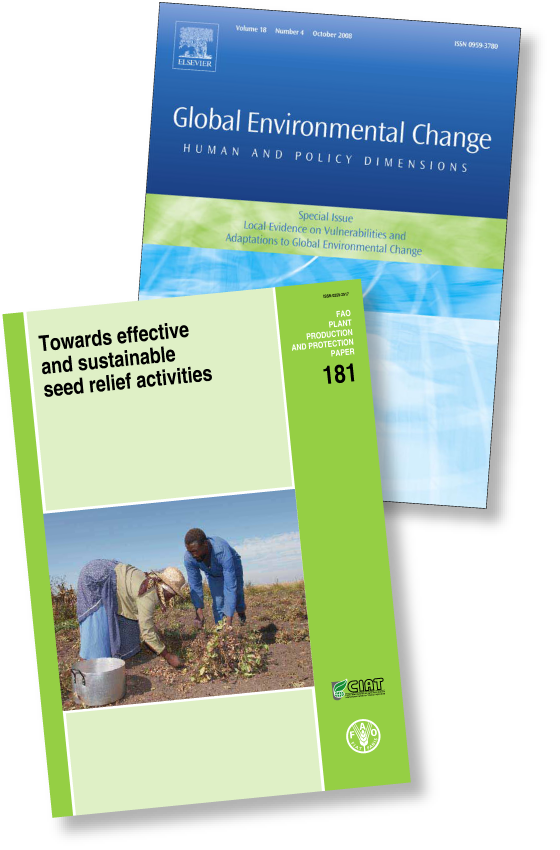 Emergency response and seed system development need to be informed by 'state-of-the-art' thinking. The seed aid and seed system fields are full of myths and full of untested opportunities. Some of the emerging critical issues, such as 'resilience in seed systems' and 'links between food and seed security', are addressed below.
#1) Hermetic Technologies for Grain and Seed Storage: This webinar discusses hermetic technologies for seed as well as grain storage. Hermetic technologies are airtight chemical-free storage methods. The presentation draws from experience in more than 20 developing countries, particularly in Africa and Asia. By Dieudonne Baributsa (introduction L. Sperling)
#2) Approaches to Commercialization of Hermetic Technologies to Reduce Storage Losses: This webinar presents progress in disseminating hermetic bags for grain and seed storage. It focuses the need to engage the development partners and government agencies in scaling-up innovations to create awareness and build the demand, especially with thousands of farmers, and stresses particularly the engagement of the private sector. By Dieudonne Baributsa)
#3)Lessons Learned from Vegetable Gardening Projects : This webinar examines common and uncommon practices and beliefs in deploying vegetable gardening projects, with a special focus on issues related to availability of and access to vegetable seed. It presents case studies of projects fostering household-scale vegetable and vegetable seed production in Africa and Central America. The presentation will conclude with six lessons learned regarding project design, seed access systems, private sector involvement, and interdisciplinary coordination.
#4)Household Gardens in Developmental and Emergency Contexts: This webinar will present a strategy for rural household gardens in Africa and Asia, using locally adapted and nutrition-dense vegetables as a core element. The strategy focuses on three components - agricultural production, nutrition and health, and support systems. Through a theory of change, relevant aspects will be discussed: intervention design, impact evaluation and partnerships to deploy household gardens at scale. A second part of the presentation will focus on emergency relief interventions, with emphasis on the use of locally adapted vegetables. During the presentation, case studies will be drawn from sub-Saharan Africa and South Asia.
Thomas Dubois, Regional Director Eastern and Southern Africa, AVRDC – The World Vegetable Center
Pepijn Schreinemachers, Lead Specialist – Impact Evaluation, AVRDC – The World Vegetable Center
Articles by select theme.